About | Demo | Order Now

About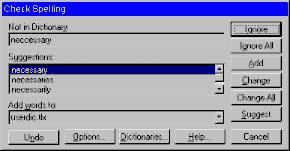 WSpell control template allows to easily use WSpell ActiveX professional quality, royalty free spelling checker from Wintertree Software in Clarion applications.
Sentry Spelling Checker Engine class wrapper allows you to call SSCE dll to add a powerful, professional quality spell checker in minutes. The Sentry Windows SDK includes everything you need to integrate the Sentry DLL with your apps. With the dll version there is no need to register any controls.
Both products can spell check Clarion RTF Text Controls, standard TEXT controls and ENTRY fields, HTML text and TX Text Control. Spell checkers come with professional-quality 100,000-word American and UK English dictionaries, and you can use any of Wintertree Software's available dictionaries in other languages plus medical and legal dictionaries. They support multiple user dictionaries and can use user dictionaries from other applications, including Word. Also we provide methods to create your own Spell Checker windows in Clarion. You can distribute WSpell or SSCE DLL with your applications royalty free. Adding a spell checker to your applications has never been easier!
More info is available at http://www.wintertree-software.com/dev/wspell/index.html and
http://www.wintertree-software.com/dev/ssce/windowssdk.html

Clarion versions 5.5/6.3/7/8/9/9.1/10/11 both legacy and ABC chains are supported!